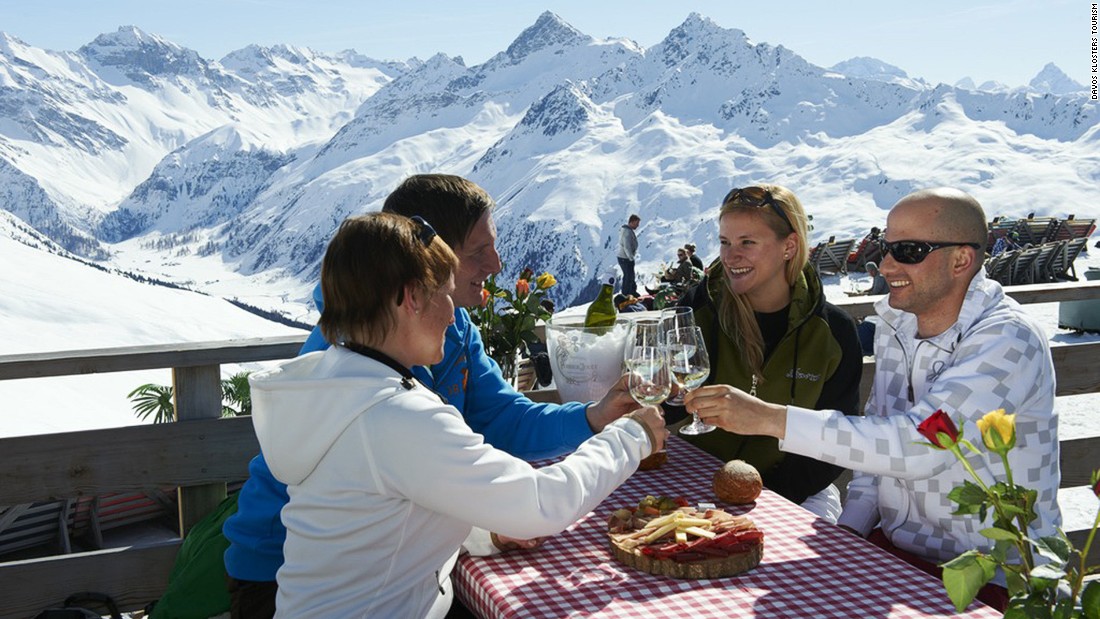 (CNN)Park the Porsche.
Secure the yacht.
It's time to leave the ordinary behind and do your part to improve the state of the world by spending four days in Davos, Switzerland.
From January 17-20, 2017, the highest city in Europe will once again host the globe's super-powerful during the World Economic Forum.
Hopefully your private plane will land on time for the forum's climate change discussion.
If not, you'll be sure to find yourself among other high fliers on the Swiss ski slopes where you can discuss topics like social inclusion with the invitation-only event elites.
Not among the 2,500 top business, political, and intellectual leaders and journalists invited to this year's forum?
Consider yourself lucky: You'll have all the more downtime to experience the high life in Davos.
Stay at a place that offers the world to those who have already conquered it
Go even higher, young elite. More specifically, travel first class on the UNESCO-recognized Rhaetian Railway to Ospizio Bernina and experience the Swiss train version of the high life.
The trip from Davos Platz (change trains in Filisur) to Ospizio Bernina takes about two hours, but these two hours could be the highlight of your entire trip.
The Bernina Express, run by the privately owned Rhaetian Railway, is the highest train ride in the Alps, and Ospizio Bernina, at 2,253 meters, is its highest station.
Here, you'll find the turquoise Lago Bianco (white lake). The color here is stunning and so is the silence.
There's not much going on at Ospizio Bernina — the action is back in Davos — but that's the point. Take an hour to admire the stillness and walk along the lake before returning to Davos Platz. There are trains going north every hour.
Or, if you prefer to have lunch at your destination (there's nowhere to eat at Ospizio Bernina), stay on the train one stop past Ospizio Bernina and disembark at Alp Grm, where
Restaurant Alp Grm
serves the local specialty, pizzoccheri (buckwheat noodles), along with amazing views of pirouetting red Swiss trains in the valley below.
Move and shake with movers and shakers at EX Bar Davos
It's not just a bar. It's not just a club. It's not just a restaurant. It's all of those things — and more.
Fifty-two years young in 2017, EX Bar offers something for guests of all ages and nationalities.
You can mix and mingle with celebrities like Matt Damon or move and shake with countless other movers and shakers of the world.
EX bar is cultic, unique, and all-encompassing, allowing you to lose track of time, even in a country known for its watches. On weekends, the DJ plays until dawn and warm food with a side of equally warm Swiss hospitality is available until 6 a.m.
Play politics (or hockey) at the Davos Sports Center
Whether you go to the Davos Sports Center to play hockey or play politics, like most Swiss places, it's neutral.
It welcomes you no matter your intentions, but encourages you to practice all forms of ice sports, including rink bandy. Skates can be rented, so there's no excuse.
The Sports Center includes an open-air ice rink, where you can feel free to discuss climate change if the ice gets soft.
The space also features the Vaillant Arena, which is one of the world's most beautiful ice hockey stadiums and the place the HC Davos hockey club calls home.
Time-Out Restaurant
, within the complex, offers exactly what it sounds like: a refreshing break from any activity thanks to a wide range of food and beverages, a large screen that broadcasts a range of live sporting events, and an expansive sun terrace.
Bet with the billionaires (or become one yourself) at Casino Davos
If you don't find a billionaire to marry in Davos, don't worry, Casino Davos offers 70 other ways to become one: 66 slot machines, two roulette tables, one blackjack table, and 1 Texas Hold'em table.
One of the best places to socialize (and have the chance at winning more than the GDP of Denmark) Casino Davos allows you to test your luck at millions alongside the super-rich — or just join them at the casino bar for a cup of coffee or a glass of wine.
Located in the heart of Davos, Casino Davos is one of only two mountain casinos in Switzerland. It doesn't require formal dress, but you might want to consider wearing a lucky charm.
Read more: http://www.cnn.com/2017/01/17/travel/best-things-to-do-in-davos-switzerland/index.html