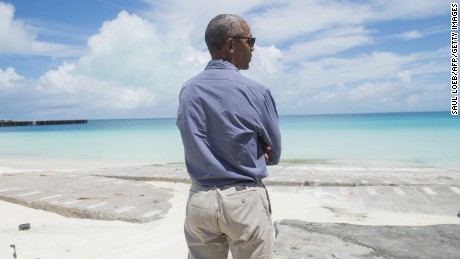 Washington(CNN)President Barack Obama, who lands in China Saturday for his last journey as president to the crucial Asian power, prepares to contact Beijing to work out restraint and highlight the advantages of sticking to worldwide standards.
To see President Barack Obama's complete interview, watch "Fareed Zakaria GPS" on Sunday early morning at 10 a.m./ 1 p.m. ET.
"What we have actually stated to the Chinese– and we've been firm regularly about this– is you need to acknowledge that with increasing power comes increasing obligations," Obama informed CNN's Fareed Zakaria, describing continuous disagreements with China about aggressiveness in the South China Sea, cyberattacks and financial policies.
Obama previewed the message he will send out to Chinese President Xi Jinping at his last conference with G20 world leaders.

"Part of exactly what I've aimed to interact to President Xi is that the United States reaches its power, in part, by limiting itself," Obama stated. "You understand, when we bind ourselves to a lot of worldwide standards and guidelines it's not since we need to, it's since we acknowledge that over the long term, developing a strong global order remains in our interests."

Obama stated the United States has actually been "really firm" in reaction to Chinese assertiveness, consisting of in the contested South China Sea, where the United States has actually opposed territorial relocations by China in objected to locations.

"We've suggested to them that there will be effects," he stated.

Critics, nevertheless, have actually implicated the United States of refraining from doing enough to inspect the increasing power.

Obama is likewise anticipated to fulfill Turkish President Recep Tayyip Erdogan on the sidelines of the top.

It will be their very first conference after a stopped working coup effort in Turkey, which caused a crackdown on the country's reporters and mass jailings.

Obama did not suggest the United States would openly rebuke Erdogan. Turkey stays a crucial ally in the battle versus ISIS in the Syrian civil war on its borders, among lots of shared interests.

"You now have a response (to the coup effort) by the Turkish federal government that not surprisingly is worried and terrified," Obama stated. "Imagine if something like that occurred here in the United States, the difficulties that we would have in finding out the best ways to re-stabilize our nation. … We support the Turkish individuals, however like any buddy, we wish to provide truthful feedback if we believe that the actions they're taking are going to contrast their long-lasting interests and our collaboration."

Read more: http://www.cnn.com/2016/09/02/politics/obama-turkey-china-interview/index.html