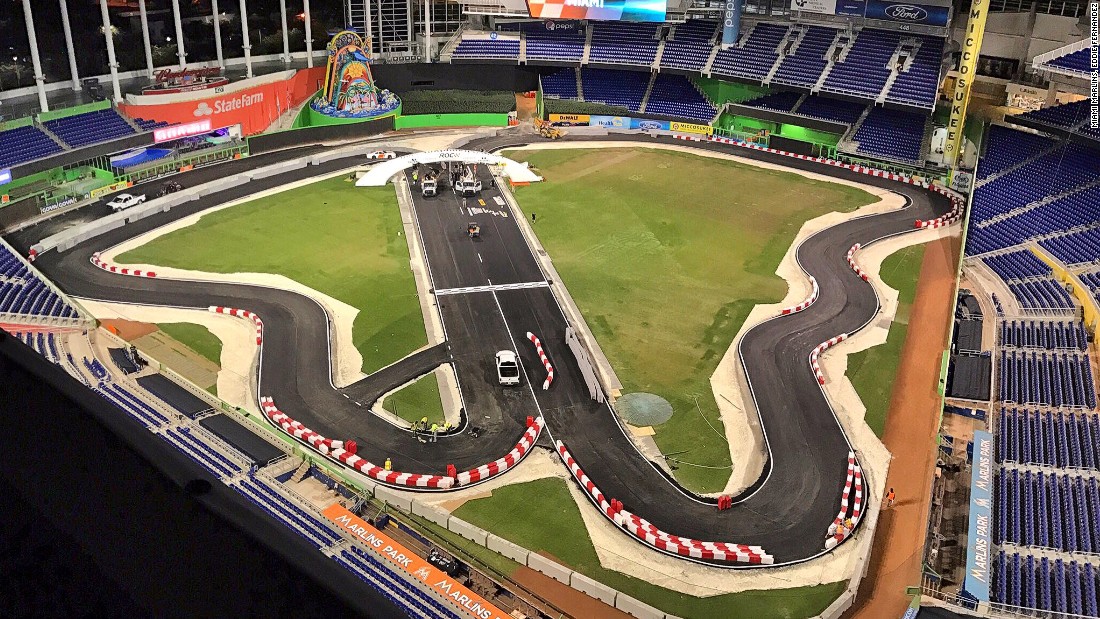 (CNN)Counting down the days to the new Major League Baseball season doesn't have to be drag.
At Marlins Park in Florida, home to the
Miami Marlins
, the romantic sound of bat hitting ball is being replaced by the roar of engines.
The
Race of Champions
(ROC) — where some of motorsport's best racing drivers go head-to-head in different cars — is motoring into Marlins Park this weekend.
It is the first time the prestigious event has run in North America and the first time a baseball diamond has been replaced by a racetrack.
"People have really struggled thinking that you can build a racetrack inside a baseball stadium," Claude Delorme, the Miami Marlins executive vice president of operations and events, told CNN.
"Some of the players are excited to meet the world's best drivers and it's such a different setting to what they're used to at Marlins Park.
"To see the field completely converted with asphalt is foreign to us, thinking we would ever put asphalt on the field!"
Delorme says he hasn't had any sleepless nights planning Marlin Park's transformation although he hasn't had much shut-eye since the track build began on January 12.
"We removed the center field gates so the trucks could get through, then we had the initial marking out of the track," he explains.
Read more: http://www.cnn.com/2017/01/20/motorsport/motorsport-race-of-champions-meets-baseball/index.html