WASHINGTON Former television talk show host Rosie ODonnell delivered a comical indictment of President Donald Trump to hundreds of protesters who braved pouring rain outside the White House on Tuesday evening.
The rally, sponsored by liberal and civil rights groups, including the American Civil Liberties Union, Our Revolution, and Food and Water Watch, aimed to show popular resistance to the presidents agenda ahead of his first speech to a joint session of Congress. In addition to ODonnell, it featured speeches from progressive activists like Rabbi Jason Kimelman-Block of the Jewish social justice organization Bend the Arc, and Jordan Marie Daniel of the Native American group Rising Hearts.
Hello, Washington, D.C.! Look at this crowd of 1.8 million people. This is Donald Trump math, ladies and gentlemen! You say it, the media buys it, ODonnell quipped.
ODonnell, former co-host of The View, has a longstanding public feud with Trump that began about a decade ago. She focused her remarks on Trumps mistreatment of women, lies, and ties to Russia.
This is not Russia, ODonnell said. To Donald Trump and his pathetic band of white-privileged, criminal businessmen, I would like to say to him, Nyet, sir! Nyet! Nyet! Nyet! No, we wont. We have seen what you have done sir. We have seen your connections with Russia. The game is over.
In an interview with the Washington Examiner after her speech, ODonnell said she believes Trump deliberately colluded with Russia to hack Democratic emails in an attempt to sway the election.
He is going down and so will all of his administration. The charge is treason, she told the newspaper.
In her speech to the crowd, ODonnell said a young conservative man asked her earlier in the day if she was being paid by liberal billionaire George Soros to speak.
I said, Sir, I have never met George Soros, but he seems like a lovely man. One day Id like to share a souvlaki with him, she recalled.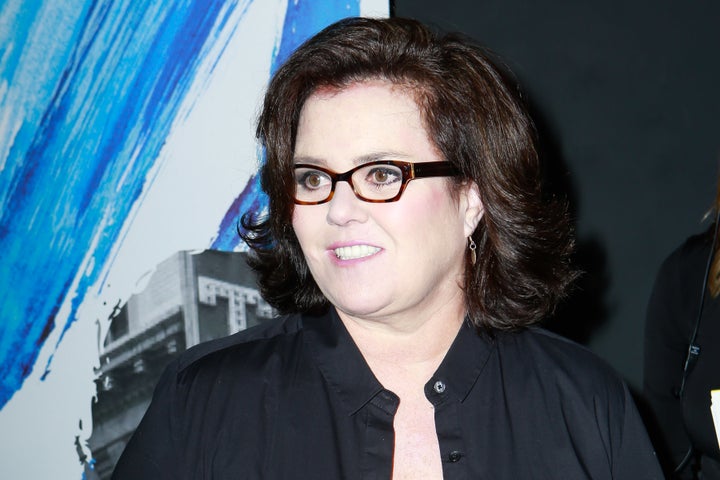 Trumps presidential campaign gave his nasty spat with ODonnell new life as the duo ratcheted up their war of insults on television and social media.As a candidate, Trump mocked ODonnell in order to deflect a question about his history of sexist comments.
Youve called women you dont like, fat pigs, dogs, slobs, and disgusting animals, then-Fox News host Megyn Kelly began a question to Trump in an August 2015 debate.
Only Rosie ODonnell, Trump interjected.
ODonnell called Trumpscampaign a nightmare and mockingly live-tweeted Trumps debates with Hillary Clinton. Most recently, she temporarily changed her Twitter avatar to a photo of her face on the body of Trumps chief strategist Steve Bannon in response to public demands that she play Bannon on Saturday Night Live. (She has said she has no plans to appear on the show, however.)
The rally was small by the standards of anti-Trump demonstrations, likely due to the torrential rain.
But it nonetheless provided a glimpse into the spontaneous wave of grassroots activism that has taken off since Trumps inauguration. Many attendees had come from outside Washington and were active in other ways.
Mary Ford, of Ellicott City, Maryland, has protested outside the White House once a week since the inauguration, each time with a different homemade sign. She had arrived four hours before the rally began on Tuesday with a placard stating, Trumps words and actions are cruel!
Ford, who regularly calls members of Congress encouraging them to resist Trump, said that that particular sign was inspired by Trumps withdrawal of a policy protecting transgender students rights.
Donovan McQuillen, a 29-year-old construction superintendent, drove from Baltimore. He was there to stand up for environmental protection, including opposition to the Dakota Access pipeline, which Trump recently authorized to be completed.
Weve been losing the fight to corporations that do not behave ethically, McQuillen said. In this country, weve reached this point where we do put profit before the planet.
Read more: http://www.huffingtonpost.com/entry/rosie-odonnell-donald-trump-rally_us_58b629dbe4b060480e0cd00b?kyqsgt5w6nr8uxr&ncid=inblnkushpmg00000009