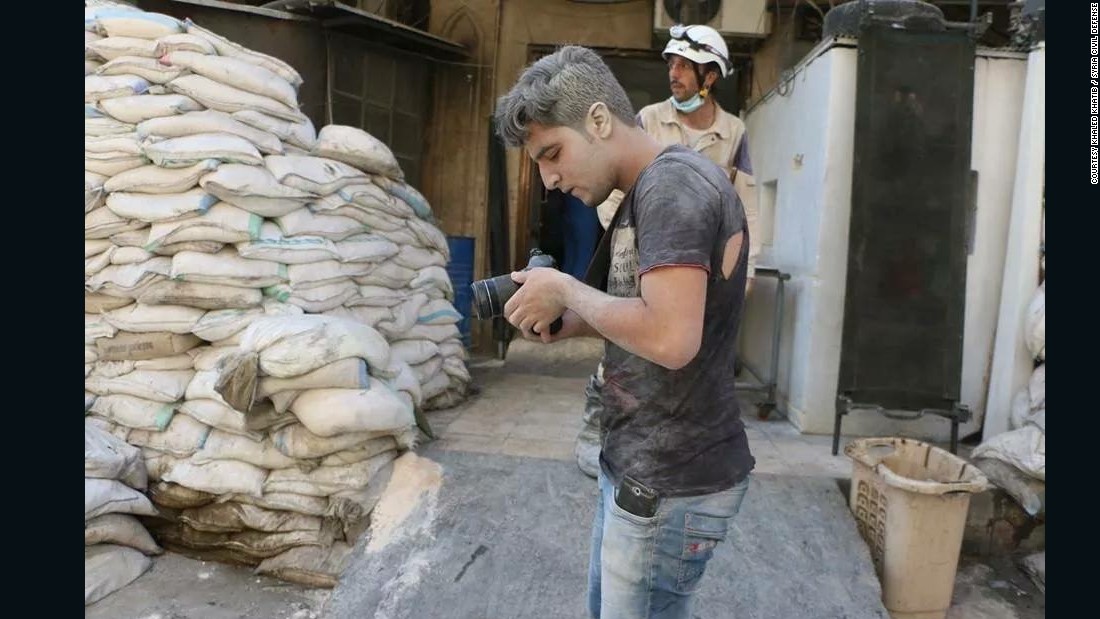 (CNN)Twenty-one-year-old Khaled Khatib works as a cinematographer and press officer for the Syrian White Helmets.
The group, also known as the Syrian Civil Defense, works tirelessly to rescue civilians affected by the country's devastating civil war.
In 2015, Khatib met filmmaker Orlando von Einsiedel and was recruited to document the group's rescue missions for the British director's then-upcoming film, "
The White Helmets
".
The 40-minute Netflix documentary, which is now nominated for an Oscar in the "best documentary short" category, follows three rescue workers from their training in Turkey to when they put their lives on the line to save civilians .
Most of the film's footage is thanks to Khatib, who captured some of the most defining moments of the civil war: from men scouring rubble for life, following the faint cries of newborn babies, to the constant fear of when the next barrel bomb might be.
After a dramatic couple of weeks, Khatib has received a visa to travel to the United States for the Oscar ceremony on Sunday.
He says: "If we win this award, it will show people across Syria that people around the world support them. It will give courage to every volunteer who wakes up every morning to run towards bombs.
"If I cannot enter the US, I will not give up: we know that we have many friends in US, that there are people that share our humanitarian values. I look forward to meeting them all one day."
Ahead of the Oscars, CNN caught up with Khatib.
How did you feel when you found out 'The White Helmets' was nominated for an Oscar?
I felt very happy, I'm very proud because it's the first big film in the country that was made about the Syrian Civil Defense. It's a big success for us because we (were able to) let a lot of people around the world know who the volunteers of the Syrian Civil Defense (The White Helmets) are.
It (has) allowed people to know that there are people and volunteers who are working and fighting for peace, not for the war — that there are people who are saving lives. It's a big message and we need all the people around the world to know this — the Syria Civil Defense are working for peace. They only save lives.
Why did you join the Syrian Civil Defense?
I saw a lot of journalists in Syria in 2013, and I really liked them. So I took a camera and started volunteering for The White Helmets because I wanted the people around the world to know what The White Helmets are doing and what is happening in Syria.
After two weeks of working, there were bombings and we responded to a rescue operation. We saved a child from under the rubble and I recorded this moment. It got a lot of YouTube views and I took the decision to continue my work.
It's easy for anyone to kill someone, but it's very hard and very difficult to save lives.
What was your first mission?
It was very, very hard for me. There was a big massacre and more than 100 people were killed. That was the worst day for me, because I saw the causalities and the bodies of the victims and when I came back to my home I also saw them in my dreams — I saw them (the victims) when I was awake, and I saw them when I slept.
I hope to complete my education and study journalism because my education stopped because of this war, and there are a lot of Syrians like me. So one day I hope to finish my education and go to university in the US or the UK.
The above interview has been edited for brevity.
Read more: http://www.cnn.com/2017/02/23/middleeast/white-helmets-khaled-khatib-qa/index.html