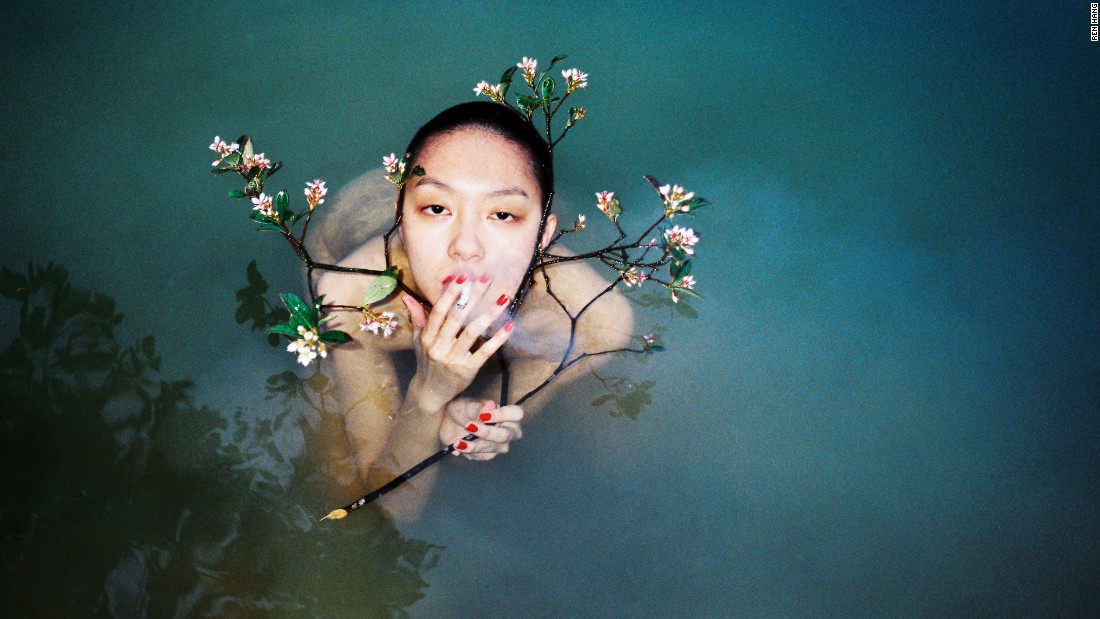 (CNN)When you look at the photographs, the first thing you notice are the naked, pale, Chinese youths — wearing nothing but blas expressions.
Suddenly, you're not sure what you're seeing.
Men wedged midair between trees. A disembodied face framed by the waists of two women. A hundred flowery fingers blossoming between a pair of bowed legs.
You've entered the world of Ren Hang: a young, Beijing-based artist whose controversial compositions have won him international fame but censorship at home, despite his claims that his work has no meaning.
"I don't have a motivation," he tells CNN. "I don't know about others, but I'm sure I don't look at art that way."
Following his own stream of consciousness, he arranges his models into mesmerizing poses, sometimes stacking or submerging them to create abstract sculptures of lips and limbs.
There are apparently no rules.
Sex organs, disco balls, and animals become interchangeable objects in the artist's low-budget, color-blasted fantasies. Even plants and pools of water are charged with lust.
In Ren Hang's imagination, everything is an uninhibited metaphor for desire.
A political statement?
The trouble is, not everyone's a fan. Ren has been arrested multiple times in China and his photos have been defaced at exhibitions or confiscated by officials. Even his websites have been pulled offline.
It explains why many critics interpret his art as socially charged — either a bold stance against censorship or a middle finger in the face of Chinese conservatism — despite Ren's claims that he has never thought of art as having a political message.
Mirjam Kooiman, a curator at Amsterdam photography museum Foam which is debuting an exhibition of Ren Hang's work, said she believes the photographs carry significant meaning, even if the artist doesn't articulate a specific agenda.
"He makes the work in a context that isn't free and open," Kollman says.
"So even though it's not his intention to work against the grain, he cannot go around it completely. It is telling us something about not only him as an artist but also the generation he's from."
It's a major turning point in the young artist's career.
"I'm curious how he'll cope with it because I don't think he plans ahead that much," says Kooiman. "It makes it hard to predict where he'll be in a few years."
For his part, Ren appears unfazed, and maintains the same approach to his work. He still uses his old point and shoot film camera. He still photographs his friends.
"I'm doing this because I still get a feeling of novelty from it," he tells me. "And it fills the emptiness of my heart."
"Ren Hang – Naked/Nude" is on view from January 27 to March 12, 2017 at Foam Photography Museum in Amsterdam.
Read more: http://www.cnn.com/2017/02/13/arts/chinese-photographer-ren-hang/index.html